Marilyn, Pursued by a Bear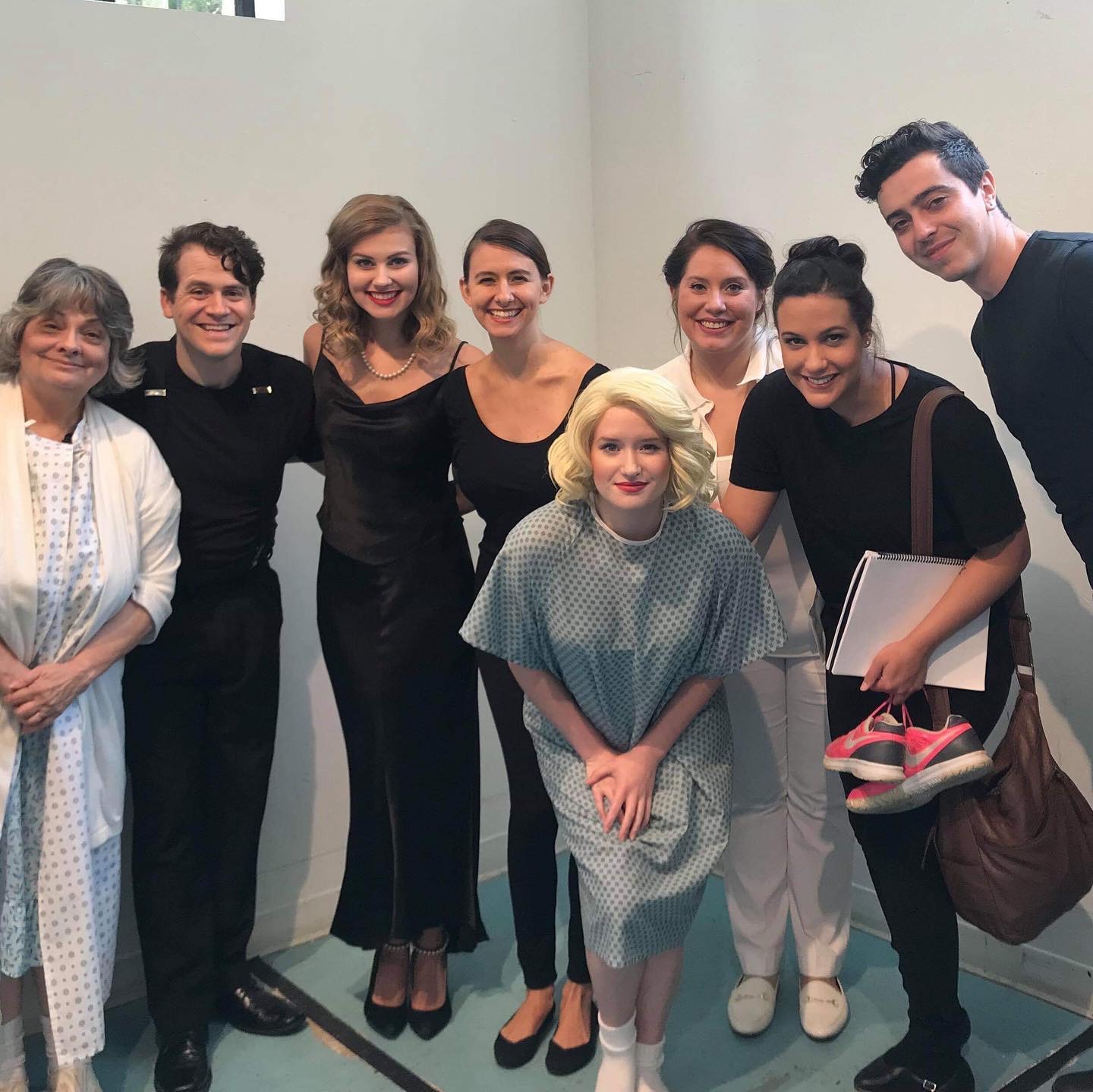 Lily & Joan Theatre Co. Cast
Marilyn: C.C. Weatherly
Gladys: Stefany Cambra
Grandmother: Sally Soldo
Bear: Olivia Cinquepalmi
Joe/Clark/Voice: Clint Gilbert
Arthur/Director/Announcer/Voice: Satchel Victory
Paula/Voice: Emily Grove
Kay/Attendant/Voice: Caitlin Galloway

Directed by: Emily Burgardt
Stage Manager: Katie Brown
Designed by: Amy Thornhill/Emily Faith/Travis Ross/Erika Larsen/FIT Festival technicians

Marilyn: Olivia Grace Murphy
Mother: Noelle Mason
Grandmother: Cynthia Matthews
Bear 1: Dakota James
Bear 2: Joshua Sherman
Bear 3: Karen Matheny
Attendant/Kay: Faye Austin
Joe: Clint Gilbert
Arthur: Matthew Allan Holmes
Stage Directions: Natalia Borja
Directed by Alex Krus
Performances
Monday Night Playwright reading at Theatre Three, 2018
Lily & Joan Theatre Company, 2019 Inaugural Season
Charlie: Allison Bret
Gavin: Joshua Kumler
Death: Rosaura Cruz
Sam: Mies Quatrino
Chaplain/Instrumentalist: Michael Baughman
Mom: Carol Cleaver Wright
Janet: Allison Good
Boss/Dad: Van Quattro
Bonnie: Caitlin Galloway
Stage Directions: Courtney Balke

Directed by Emily Burgardt
"I wish you everything good.
A quiet walk home, the love of a dog, and of a person. I hope you are loved."
Charlie: Julia Bodiford
Gavin: Andrew Bullard
Mom: Sherry Etzel
Death: Chris Herrero
Sam: Cameron Casey
Bonnie: Olivia Grace Murphy
Janet: Alex Fazzari
Dad/Priest: Lon Barrera
Doctor/Musician: Marcos Villegas
Stage Directions/SM: Courtney Balke
Directed by Emily Burgardt

Performances
Monday Night Playwright reading at Theatre Three, 2019
performed my five-minute version of Three Seconds, which was the first scene written for the full-length. In this version, Charlie is not named because their name is never established.
Other: Cameron Casey
Sam: Joshua Hahlen
Instrumentalist: Marcos Villegas
Grump on the Train: Tori Randall
Directed by Emily Burgardt
Photography by Zane Pena
Performances
Inaugural Imprint Theatreworks First Impressions Festival, 2018
Joanie: Olivia Grace Murphy
PB: Clint Gilbert
Puppets: Alex Krus
Directed by Alex Krus
I am Drunk and You Are a Sandwich
Performances
The Guinea Pig Festival, 2018
"Little Gems" at Collin College Theatre, 2019
The Guinea Pig
Mary: Natalie Hutton
Sandwich: Courtney Mentzel
Hot Dog: Michael Carver-Simmons
Directed by Emily Burgardt

Collin College Theatre
Mary: Lexi Salmon
Sandwich: Melanie Baxter
Hot Dog: Kennedy Smith
Directed by Dusty Miles